Smartphone users are a particularly internet-adept group of people; shopping on the go, reading e-books at the doctor's office, and surfing your website while riding on the bus.
If they like your site, they'll want to bookmark it to the home screen of their phones for easy access later.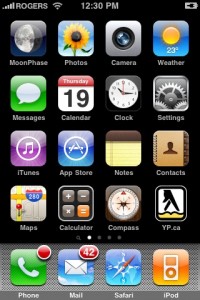 Any bookmarked site will be assigned a spot on the phone's interface – but if you don't have your own iPhone icon, the phone will generate one by taking a snapshot of part of your site – and it won't be pretty.

The default icon will not be representative of the usefulness and beauty of your website.

AloeRoot can create a custom iPhone icon using your company logo or image of your choice – and we'll write the code for your website so your icon will appear on your customers' phones when they bookmark you.

iPhone icons are included in all new websites that we build. Already got a site? Contact us for icon pricing!