The Three Web Essentials:
A website that meets your needs.
A domain name (www.yourbusinessname.com).
A hosting account to make your site available to the public.
---
Website Design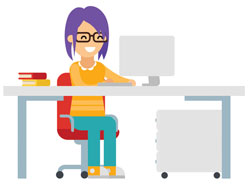 You can expect top-quality website design and development service, but a great website is just the beginning–we also offer search engine optimization, logo design, other graphic design services, and ecommerce solutions.
We take pride in being easy to work with, and walking you through the development process in a friendly, helpful manner. We promise not to speak in tech jargon, and we understand that not everyone is tech-savvy–we love it when people tell us "you've made this so easy!"
AloeRoot is located in North Bay, Ontario, but we have clients all over North America. Distance is not an issue. Call us at 1-705-493-3601 to tell us what you need.
Check out our list of clients' websites here.
---
Domain Name Management
We'll register, protect, renew and manage your domain name(s) so you don't have to think about them.
Request your domain name here.
---
Web Hosting and Email Accounts
Our web hosting plans are tailored to your needs and budget. They include as many email accounts as you require and we manage them for you.
Our hosting server is locally owned, and managed by a highly experienced systems administrator. Unlike other hosting companies, we keep a small client list and don't jam hundreds of sites onto one server–which means you get a fast website and personal technical support.