When you're starting a website, it's easy to get overwhelmed thinking about how to organize everything you want to say.
A good developer can help you through the process; one who knows SEO (Search Engine Optimization) will go over your writing afterward, to make adjustments that'll help you rank highter. The first steps are yours, though. Here's how to start well:
Plan Every Page: Doodle or List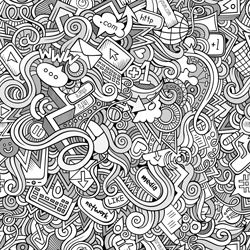 Write down all your services. For example, if you own a hairdressing business, you might come up with:
1. haircuts
2. colouring and colour correction
3. styling for special occasions
4. waxing and other esthetics services
5. hairdressing and makeup for photography shoots
then you'd add extra pages, such as:
a. contact us
b. awards
c. meet our team
d. tips for great hair
e. portfolio (with some great pictures of your best work)
You can also doodle this on a napkin if you're a visual thinker–make sure it's a clean napkin if you plan to give it to your developer. Linen is a good choice.
A Topic For Every Page, and Every Page on Topic
Once you've mapped out your site, write a paragraph or two for each page, and stay on topic. If some services relate to one another, tell your developer so he or she can link the pages together in ways that make sense.
Aim for 300 words at minimum, but maybe add a little extra so your developer has some room to make edits.
…And Hand it Over
Get your content to your developer as soon as possible; we can't get far with your site unless we know what's going to be in it. If you plan every page, we won't have to do much rewriting and your site will be ready sooner.
Once all your content is in place, have a friend or customer look at the site with fresh eyes. Choose someone who will notice if you forgot something important, or if your text creates questions you haven't answered.
Try To Relax:
The beauty of websites is that you can edit them once they're published, so if you want to refine your writing later, it's easy to do.
Save